Safety
KIDFIX XP child seat, with ISOFIX
grey / black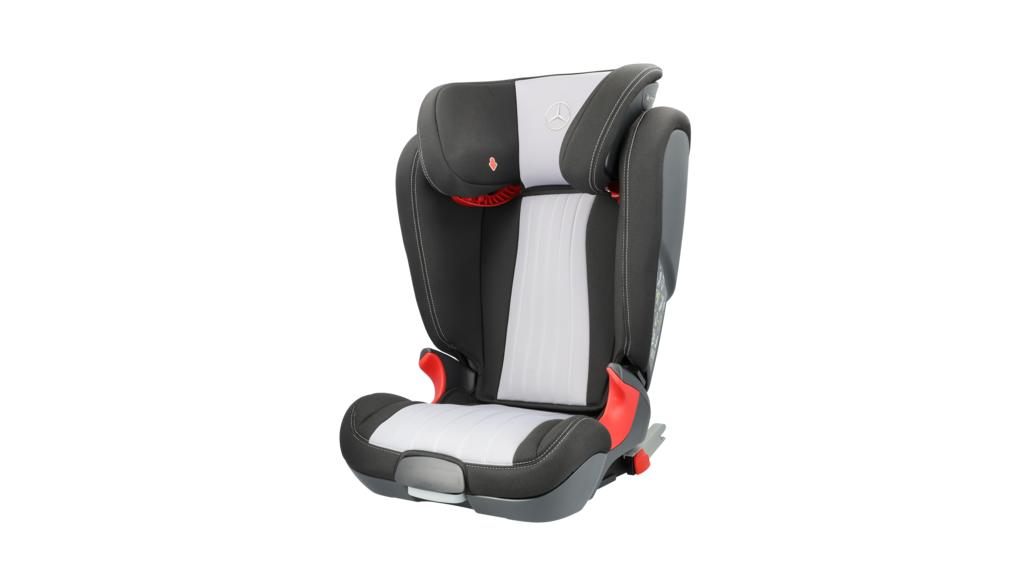 The high-quality Mercedes-Benz KIDFIX child seat offers support and safety for children aged between about 3.5 to 12 years (group II+III, 15 to 36 kg body weight). The front-facing seat makes it easy to safely and correctly insert and remove the child seat thanks to its standard ISOFIX locking latches. The insertion aids included as standard can also offer support. In vehicles with integral insertion aids the insertion aids included are not to be used. The ISOFIT system also ensures a fixed and secure connection between the vehicle and child seat, even when the seat is unoccupied. In vehicles without fitted ISOFIX attachment points the KIDFIX XP can alternatively be secured with the three-point seat belt – for this purpose the ISOFIX locking latches can be removed from the child seat.
The KIDFIX XP has been specially tested and designed for Mercedes-Benz cars. For a high level of safety for children in the car we have therefore comprehensively equipped the KIDFIX XP:
The seat's strengths include its exemplary side impact protection, courtesy of the energy-absorbing XP-PAD, which can reduce the impact on the child in the event of a collision. Large, padded side bolsters also enhance side impact protection. Furthermore, the Mercedes-Benz KIDFIX XP has a rigid seat base, a stable seat belt guide and a particularly robust attachment of the head restraint. The head restraint offers older children safety, who are already strapped in with the three-point seat belt and supports the head ergonomically if the child falls asleep.
The child seat also grows with your child, as the head restraint and seat belt guide can be moved to the right position for the height of your child up to the intended size.
The V-shaped backrest of the KIDFIX XP can be continuously adjusted to the inclination of the vehicle seat, ensuring the child is always in a pleasant position.
The KIDFIX XP has also been designed by our specialist developers for use in Mercedes-Benz cars equipped with a belt airbag.
If necessary, the backrest of the KIDFIX XP can be removed and used as a booster seat, as it is accordingly certified by the regulations of Euro NCAP. However, in general Mercedes-Benz recommends the use of the child seat with the backrest.
The exclusive cover in grey/black, designed by our Mercedes-Benz designers and made from high-quality materials, not only perfectly integrates into the interior of the vehicle, but can also be removed and washed. Replacement covers are available separately.
The child seat is made in Germany.
A

B

C

CLA

CLS

E

EQA

EQC

EQS

G

GLA

GLB

GLC

GLE

GLS

S

SL

V